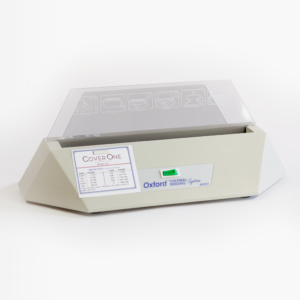 Machines
Bind up to 200 sheets at a time in a single step! With only 3 minutes of warm-up time, this machine takes only 60 seconds to bind and repair books with ease. The #250 machine can effortlessly bind documents up to 1.5″ in width and 13″ in length and is ideal for a medium-duty home, home office, or desktop use.
Product includes machine only.
Dimensions: 15 x 6 x 7"
Weight: 6 lbs
Add to cart
Machines
The CoverMate #520 will create durable and perfectly-bound books in the convenience of your school, office, or home. It repairs paper back and hardback books as well. The #520 easily binds or repairs books up to 2" in width and 18.5″ in length with a sliding wall to hold smaller books in place and will work with up to legal size books and covers. This machine includes a non-detachable stand. This product features solid-state electronics, automatic binding cycle timer, one button operation and no warm-up is required.
Product includes machine only.
*Our 620 and 520 machines have been specifically manufactured to produce a temperature that does not damage your books*
Add to cart